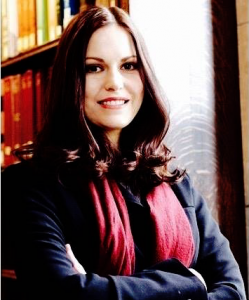 Larissa Buchholz is an Assistant Professor at the School of Communication at Northwestern University and holds a courtesy appointment at the Department of Sociology.  She is a sociologist of culture whose research intersects with transnational/global sociology, inequality and economic sociology, but also is informed by interests in sociological theory, research methods and the sociology of knowledge.
Buchholz earned a Ph.D. in sociology from Columbia University, a Master in sociology from Stony Brook University and before specializing in sociology a Magistra Artium in interdisciplinary Kulturwissenschaften at Leuphana University in Germany (transl. Cultural Sciences), including philosophy, art history, anthropology. She was a contributor to Harrison C. White's 2nd Identity & Control and authored and coauthored a number of publications in her areas of interest, e.g. on global field analysis, the uses of ethnography for studying embodiment, culture and networks (with Harrison C. White, Jan Fuhse, and Matthias Thiemann), a comparison of the reception of Bourdieu in the UK and the US, and the sociology of intellectuals (with Gil Eyal). These publications have appeared in, among other outlets, Theory and Society, Annual Review of Sociology, Sociological Review, Poetics, Soziale Systeme (cf. selected publications).
Buchholz was the recipient of a Fulbright Award, the Alex Inkeles Prize for outstanding graduate student, the Robert K. Merton Award for best dissertation at the Department of Sociology at Columbia University, the outstanding Dissertation Award from the American Sociological Association, a William F. Milton Fund Award at Harvard University for fieldwork on three continents, the outstanding recent Alumni Award of Columbia University, the 2016 Junior Theorist Prize of the International Sociological Association, and the 2017 Junior Theorist Award of the American Sociological Association. Buchholz was the first female sociologist elected to the Harvard Society of Fellows.